United Spa Controls: Manufacturing the
Highest Quality Spa Controls for Over 20 Years.
United Spa Controls has been manufacturing spa control systems of the highest caliber since 1996. Over the years we've developed a proven track record of engineering and design excellence. The reason behind this is simple; we design our controls from the ground up, paying close attention to every possible detail, from every possible perspective.
Our world-class electrical engineers have designed our electronics to be so versatile, that spa manufactures only need to carry one control series to work with almost any spa line/configuration. Our hardware design team has optimized our control boxes and topsides to be the easiest to install in the industry, saving equipment installers valuable time.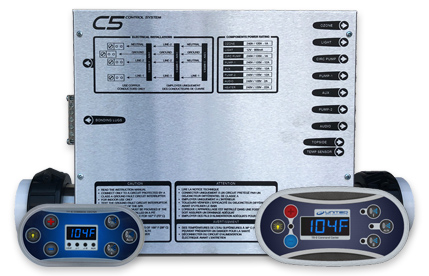 The receptacles and wires in our controls are all color-coded by our designers, and expertly laid out by our assembly team to make them easier to service by the technicians that will work on them in the future. Most importantly, our software engineers have carefully designed every function in the user interface of our controls to be intuitive and user friendly.
United Spa Controls' 20-year history began as a manufacturer of pneumatic spa controls which quickly earned us a reputation within the industry for clean and intuitive circuitry design and engineering. While in the years that followed our competition rushed to market with the first electronic controls, our engineers spent a full 6 years in research and development of our first electronic controls, designing what ultimately became the C5 Series of electronic controls. United Spa Controls wasn't the first to come to market with an electronic control, but we were the first to get them right. The C5 Series has in fact been so successful, that it is still our flagship product line, now in it's fifth generation.
This is just the beginning!
Our engineering team is always busy working on next generation electronics and exciting new technologies that will continue to push the spa industry forward...