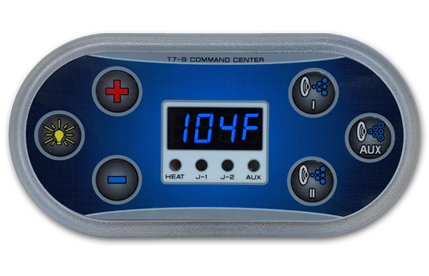 The Easiest to Install Topside on the Market
The T7 Command Center is United Spa Control's entry-level topside offering. Its simple interface and compact easy-to-install design have quickly made it a favorite among those looking to upgrade from other/older control systems.
The T7 features our patented
Spa-Touch
™ switching technology, can operate any possible hardware configuration of a C5 Series electronic control, and also provides basic filtration functions.
The T7 measures in at 5" wide by 2.5" tall. Due to its unique engineering, it requires just a single 1.75" hole for installation. As this can be easily accomplished with a hole saw, the T7 is the easiest to install topside in the industry!

T7 Topside Installation Manual & User's Guide