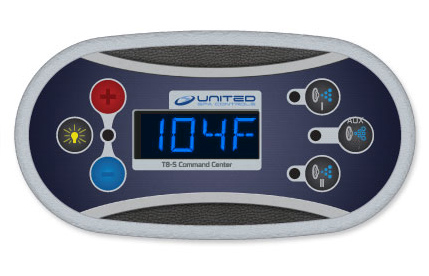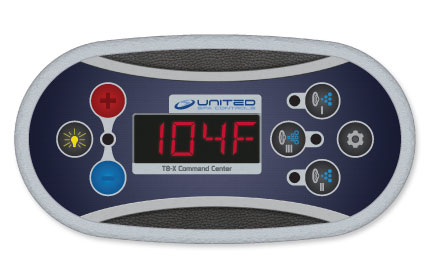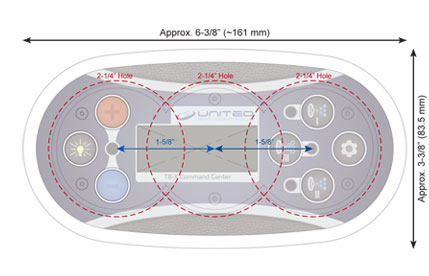 Our Most Advanced Topside Yet!
The new T8 Series Command Centers are our most ambitious and feature-packed topsides we've engineered yet. The T8-S is for designed for spas with single or dual booster pumps, while the T8-X features an extra button to operate an additional booster pump or air blower.
Both of the new T8 Command Centers actually share the exact same hardware. Our patented
Spa-Touch
™ switching technology along with advances in our software allow our latest topsides to have the same versatility as our control boxes. This means our OEM customers can stock one topside body, and use different custom decals and software settings to make the same hardware look, feel, and act like distinctly different topsides.
The T8-S and T8-X Command Center are also packed with features above and beyond their predecessors:
Larger 4-digit alpha-numeric displays


Built-in clocks for more control over filtration timing


Easy-to-install design (3-hole installation)


Reversible display (Display can be rotated to be visible from either inside or outside of the tub)


Temperature and settings locks (Lock the set temperature, user settings, or both)


Redesigned, more intuitive interface and menu navigation
Easy to Install Design
The T8-S and T8-X topsides measure in at approximately 6-3/8" x 3-3/8", and can be easily installed with a 2-1/4" hole saw. Installation requires three 2-1/4" holes to be cut out of the shell of the hot tub it is to be installed into. The three holes will need to be drilled in a straight line, with the center of each hole spaced 1-5/8" from the center of the previous hole.

T8-S and T8-X Command Center Installation Manual & User's Guide