The Most Versatile Control Series in the Industry
The C5 Series electronic controls now feature our fifth generation electronic power board, the B8 power board. The new B8 board feature 'zero-crossing' technology. This means that the relays are now only engaged at the optimal zero crossing of AC power, which is easier on the relays, and easier on the components in the spa. Every trace on these boards have been carefully engineered, with low voltage circuitry separated from high-voltage circuitry, and utilizing solid brass bars instead of printed copper traces for high voltage power. This unique design ensures the safety and longevity of our control systems.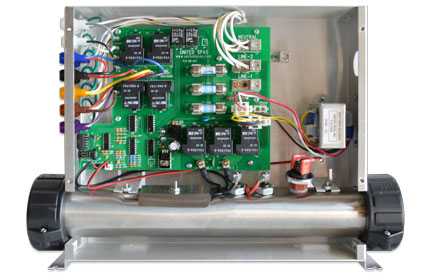 C5 control boxes with the new B8 board now ship with our new dual-voltage transformers. The days of swapping out transformers to switch between 240V and 120V power hook-up are over! With these new transformers, and the addition of two additional 2-wire receptacles to the B8 board, incoming power voltage can be switch by moving the transformer's 2-pin power selector plug between the B8's 120V and 240V receptacles.
With the addition of the new dual-voltage transformers, the C5 control series are now the only controls on the market that come out of the box ready to operate at 120V or 240V (3-wire or 4-wire), at 50Hz or 60Hz, and configurable to 40 different hardware configurations. That makes any C5 capable of operating almost any spa, anywhere in the world, right out of the box!
C5 Models
There are 5 different models in the C5 Series, all feature the same electronics, but offer different heater configurations. The most common units are the C5-B (Bottom Heater) and C5-T (Top Heater), which feature 15" long 2" flo-thru style heaters mounted either inside the bottom of the box (C5-B) or to the top back of the box (C5-T). There is also a model with a 'remote' heater, the C5-R, which features the same 15" long 2" flo-thru style heater on a 4' cable for tight installations. There is the C5-G which is designed for use with external gas heaters, and finally the C5-L which is designed with a special low-flow heater for use on spas with small circulation pumps.
Each C5 control model is available with either the entry-level T7 Command Center, the new T8-S Command Center, or the new T8-X Command Center.
Learn More About the T7 Command Center »
Learn More About the T8 Series of Command Centers »
Technical Specifications
Minimum Heater Flow

C5-B/T/R
C5-L
C5-G
25 GPM Minimum
15 GPM Minimum
N/A

Electrical

Incoming Power

---------------------------------------- Ozone

Light

Circulation Pump

Pump-1

Aux (Air or Pump-3)

Pump-2

Audio

Gas Heater (C5-G only)
120V/240V 50/60Hz

----------------------------------------
240V/120V - 1A

12V - .9A

240V/120V - 2A

240V/120V - 12A

240V/120V - 12A

240V/120V - 12A

240V/120V - 4A

120V/240V - 1A
Environmental

Operational Temperature
-0°F (-18°C) to 145°F (63°C)
Storage Temperature
-2°F (-19°C) to 175°F (79°C)
Humidity
Up to 80% RH, non condensing

Mechanical

Weight (without topside)

C5-B
C5-T
C5-L
C5-G
C5-R


Dimensions (w/o unions)

C5-B
C5-T
C5-L
C5-G
C5-R
C5-R Heater


Dimensions (mounting)

7.50 lbs. (3.40 kg)
8.15 lbs. (3.70 kg)
8.00 lbs. (3.63 kg)
5.50 lbs. (2.49 kg)
9.00 lbs. (4.08 kg)





11.25"H x 15.50"W x 3.25"D
13.00"H x 15.50"W x 6.00"D
8.50"H x 20.75"W x 6.00"D
11.25"H x 12.75"W x 3.00"D
11.25"H x 12.75"W x 3.00"D
6.00"H x 15.50" x 3.25"D


13.25" x 2.63"

Enclosure

Control Box
Heater (N/A on C5-G)
Aluminum
Stainless Steel

Certifications

ETL Listed
(USA & Canada)
UL STD 1563 - 5th Edition
CSA C22.2 NO. 218.1